.
Streamline Plumbing Sewer Camera Inspection

We have more than 25 years of experience.
Highly trained plumbers for sewer camera inspection
5 Star Reviews on Yelp and Google
Using latest technology for sewer camera inspections
We do sewer inspections and cleaning in Anaheim
Professional services with good attitude
We offer free second opinions and Estimates

Anaheim Sewer Video Camera Inspection
Contact us for a sewer inspection today.
The newest technology offers the most accurate and affordable way for repairs.
Our Anaheim plumbers know what to look for and how to fix it.
Finding out what is blocking your sewer lines is important.
But before we start tearing up your yard, the sewer camera inspection shows us the problems.
We don't just take a guess and hope we do the job right.
We use a proven process to help our customers over the last 25 years here in Anaheim.
If you have been told you need a new sewer line from another plumber, then call us for a 2nd opinion.
The sewer video camera equipment we use saves homeowners big $$.
You can count on us.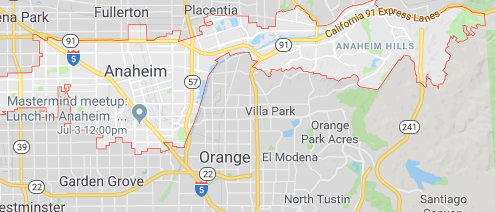 Sewer Camera Inspection Exposes Problems
Offset pipe – occurs when a sewer pipe gets misaligned from shifting soil, poor installation, or frozen ground.
Broken sewer – often times this is = caused by human error. A utility company could damage sewer lines when installing another line. We take this serious and will document the entire repair job.
Cracked or collapsed pipes – sometimes a simple repair / replacement is the answer. Any sewer repair you are dealing with or even trench less sewer repair is something we can do.
Root intrusion – Tree roots are notorious for sewer clogs and repairs. Fixing stubborn roots with a simple drain snake is usually doable. Sometimes hydrojetting might be needed and we have affordable prices on that also.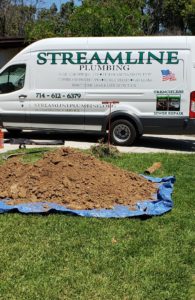 Same Day Video Camera Sewer Inspection
You can't always foresee a sewer repair coming.
For the most part Anaheim residents have no idea there sewer lines need repairs.
If you have questions call us for answers.
Let us help you fix the problem, sewer line issues aren't meant for novice plumbers.
Like most plumbing repairs, delaying the actually fix isn't ideal.
What Does it Cost?
All sewer camera inspection costs will depend on many factors.
How old is the home
how bad is the damage
is cleaning an option
do you need new pipes
…..
Our reputation is great, with 5 Star reviews on Yelp and Google, etc.
We take great pride in this.
The sewer video camera inspection on your sewer lines is something that homeowners need to deal with.
It's always better to be proactive and fix problems before they become big repairs.
If we do examine your sewer lines and the price is "X", then that's what we charge.
Streamline plumbing techs offer up-front pricing for any video camera sewer repairs.
Our Anaheim sewer camera plumber techs are trained with the latest equipment and in the end this saves the homeowner money, stress, and time because we Always get the job done on time.