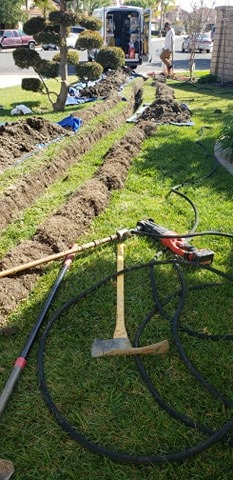 Driveway and Slab Leak Repairs
On this recent job our customer had a broken water main under their driveway (and brick work) at the front entrance of house.
Anytime a plumbing repair is this close to the house it requires proceeding with extra caution.
In this particular case, our 25 years of experience allowed to us zero in on the source of the leak.
Very quickly we exposed the problem and found a Polybutylene water service main.
Old Materials Cause Many Problems
Polybutylene is a type of plastic resin which was used in the manufacturing of piping from 1978 until the mid 90's.
Due to the polybutylene not being an acceptable material anymore for plumbers to use we had to upgrade the homeowner.
So in this case we installed approximately 65 -68 feet of polyethylene and left the homeowner in great shape.
The best part is that this leak repair came with a warranty on the new line for 50 years!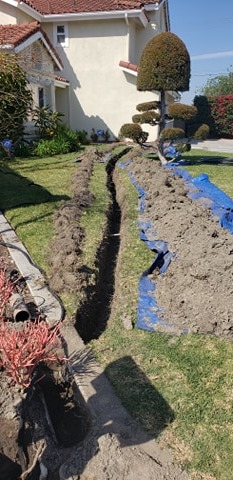 Signs Of a Driveway or Slab Leak
When we arrived at the house, there was little doubt whether there was a major plumbing leak.
As usual, the hard part was identifying the source of the actual water leak and making a plan.
With the wide spread of the water leak, and proximity to the concrete driveway, leak detection allowed us to narrow down the likely culprit of the water leak.
Their water meter was also ticking over, even though no water was being used in the house.
Some of the other signs of a driveway leak are:
frequent accumulation of water on the driveway
the sound of running water
and loss of water pressure
cracks appearing in the driveway
mold or grass growth in one area
constantly running water meter
increasing monthly water bill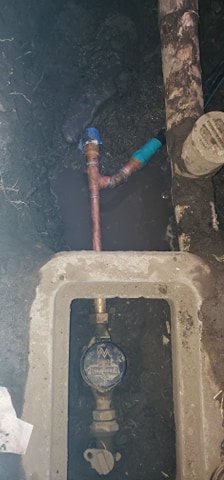 What Causes a Driveway Leak / Slab Leak
Every driveway leak (or slab leak) is unique and presents a different set of problems.
Driveway leaks are typically caused by a leaking or broken water main that can cause major damage.
On average, the life of a water main is around 50 years or so.
So if you recently bought an older home you might want to schedule a service call to check your pipes.
Below are some main reasons for the leaks to occur –
Low-quality pipes
poor installation
old age of pipes/material
climate conditions / weather
damaged pipes
In many instances, the leak may not directly start from the pipe itself, but from the fittings, because they have a reduced lifespan.

Why Streamline Plumbing
We have over 25  years of experience helping customers in Southern California.
We are well known as a top plumbing company when it comes to leak detection and repairs.
We offer affordable prices and we use only modern equipment to help save costs and time.
Our Google and Yelp reviews are full  of 5 star ratings from our customers.
We intend to keep the same stellar reputation over the next 25 years.
Call us immediately for any driveway leaks or slab leak issues you have.
Cost To Fix A Driveway Leak
We are proud because in this case we were the 3rd plumber that our customer called.
The other 2 plumbing companies offered bids that were almost 35% higher than our final price.
The home owner was so happy she called us for a FREE second opinion, because we saved her $1000's.
Don't just hire the first plumber you meet, always call Streamline Plumbing for a FREE estimate.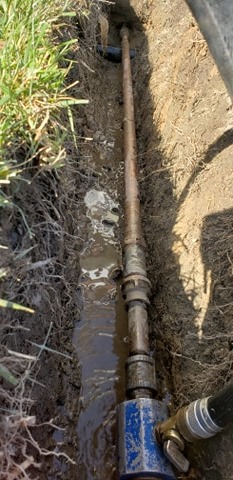 What To Do If Your Driveway is Leaking
It might seem like a nightmare scenario, but Streamline Plumbing is here to hel.
It doesn't matter if it's a driveway leak or slab leak, it's important to remember that both leaks are hard to detect and need a professional plumbing company like Streamline to do the repairs.
If you are faced with these problems listed above, then let a professional leak detection company do the repairs.
Trying to repair the leak on your own is not smart, and you might cause more harm than good.
Our leak detection specialists have been in the business of leak detection and repair for over 25 years.
Our Southern California plumbers know what it takes to repair your driveway or slab leak and leave your property in good condition.
Under concrete repairs can be a little more tricky because the concrete makes precision leak detection more difficult, but Streamline Plumbing takes these major leak repairs very, very serious.