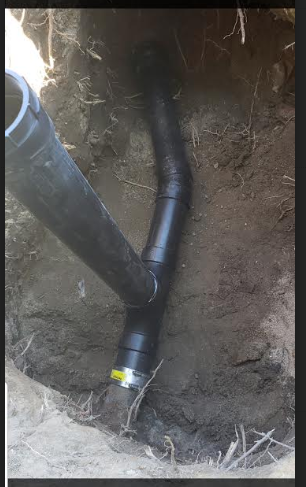 Cerritos Sewer Repair Plumbers
A clogged sewer line can lead to much bigger plumbing problems.
However a clogged sewer line is not always easy to detect.
You may notice a water puddle or small amounts of running water in your yard.
You may also notice a large congregation of bugs in a particular area.
These are all indicators of a sewer pipe clog or break.
Sewer pipes can also be a source for tree roots to grow and they look for a water source.
Again these are things that can't  be seen easily.
You'll need an experienced plumber to diagnose a sewer line break in your Cerritos home or business.
Call us today for a free estimate or second opinion.
Cerritos Sewer Repair Cost
Sewer line repair can be very expensive depending on where the repair is needed or how bad the sewer line break is.
Streamline plumbing offers no charge service calls for estimates.
We will offer upfront pricing.
Call Streamline plumbing in Cerritos today if you are looking for an honest plumber for your sewer repair.
We are the plumbing specialists for Cerritos and Orange County.
Free Estimates
Free Second Opinion
No additional charges for emergency service
Over 25 years of experience
Family owned and operated
Many repeat customers
No upcharges on the weekend

Reasons to repair sewer
Usually sewer lines become slower running due to clogs formed mostly by tree roots.
But there are other things that can cause a disruption in your sewer system.
Random objects in the sewer line
Ground shifting
Improper installation
General deterioration over time
Construction or Utility companies working in your area
Call Streamline today we will come out and do a video sewer inspection to see if you need sewer line repair or replacement.
This a cost effective and less invasive way to see what's happening inside the sewer line.
We can also perform a high pressure flush called hydro jetting to flush out clogs in the sewer line.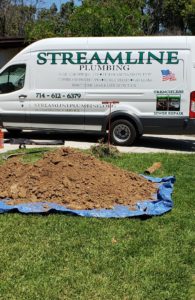 Sewer Line Replacement in Cerritos
In some cases your sewer line can't be repaired or flushed out and you will need to replace sections of the sewer line.
Sometimes replacement is a better option since sewer lines deteriorate over time.
You may have a collapsed part of your sewer line. This involves replacing a section of sewer line.
This will involve a small backhoe to dig up the area to be replaced.
Streamline offers an affordable solution to all your sewer line replacement needs.
We will not dig up your yard unless absolutely necessary.
Only an experienced plumber should handle sewer line repair.
Trenchless Sewer Repair
This is a newer technology that is able to repair your line without digging up your yard.
This new approach is great for sewers beneath landscaping , sidewalks and driveways.
This requires us to dig up a few small access points for our trained plumbers to get to the sewers.
After we finish the job the access points are filled in like we were never there.
There are two main ways to go about trenchless sewer repair.
Pipe bursting-where a new pipe is pulled through the old pipe and the old pipe is destroyed around it.
Pipe Relining-a fiberglass line is placed inside the bad piep to seal the old damage.
Streamline can come out to your Cerritos home or business and give you an estimate and let you know whether trench less sewer repair will work for you.