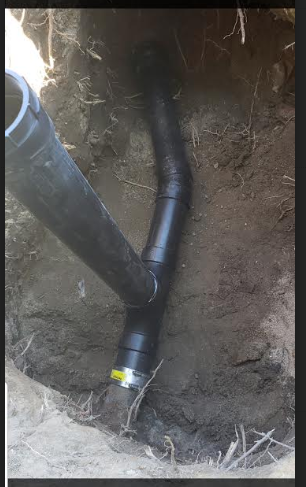 Anaheim Sewer Repair Plumbers
Most people never think about having a sewer repair.
But the reality is that eventually most properties will have problems with their sewer and pipes.
And a sewer repair needs to be handled by a professional plumbing company, not a DIY.
If you are renting a house then when you have a plumbing issue you just call your landlord, but if you own the house it can be quite saddening to hear how much a sewer repair or replacment could cost.
In any home or property management situation, a clogged sewer line can create big problems and repairs.
Slowly as years go by, the tree roots have a potential to cause issues with the sewer lines.
Roots are Evil
Roots are good for trees to live, but roots are bad for homeowners.
As a tree grows, the roots will seek tiny cracks to find a dependable source of water.
Dealing with roots and sewer lines isn't something for the average Joe to try and fix.
Call us today at  Streamline Plumbing in Anaheim for our sewer repair techs.
FYI – the clay tile pipes are most likely to be invaded by tree roots, but roots can break into even concrete or PVC pipes.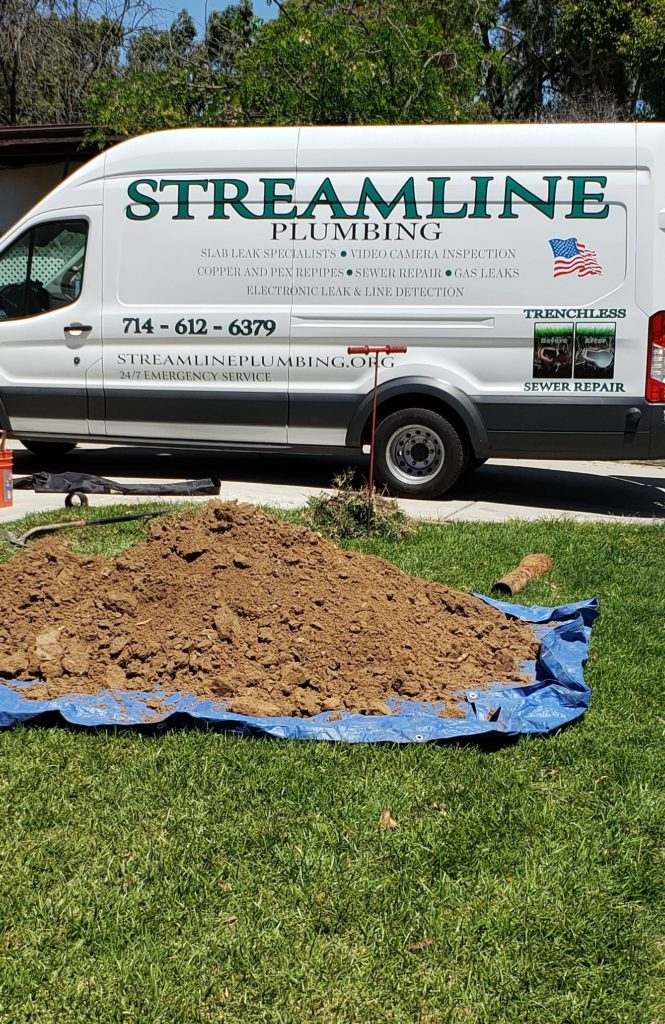 Anaheim Sewer Repairs Cost
Streamline Plumbing here in Anaheim offers a FREE estimate or second opinion for any sewer repair job.
Never just agree to pay the first plumber you get a quote from, unless it's an emergency.
Sewer cleaning and repairs will have a wide range in costs.
But Streamline Plumbing takes pride in being Honest and Professional.
If for example a repair quote is $1,000, then you won't get a surprise bill from us for $5,000 (or some crazy amount).
Simply call us today for answers or to schedule a FREE estimate on a potential sewer repair.
If you've been searching Google for "a sewer repair plumber near me", then we can help.

Anaheim homeowners all have different sewer repair issues, but after our 25 years in the plumbing industry we have seen every type of sewer repair issue and we know what to do.
What we offer for plumbing sewer repair needs:
No Additional Charges For Emergency Service
No hidden fees
Call us 7 days a week in Anaheim
Free Estimates
Expert plumbers on staff
Over 25 years experience
5 star ratings on Google and Yelp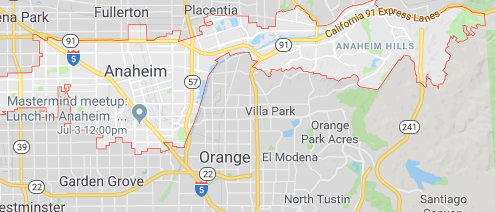 Reasons Sewer Needs Repair in Anaheim
We understand that it's hard to think about paying $ to fix a broken sewer line.
But the reality is that ignoring a necessary sewer repair could cost you much more later on.
Never postpone fixing a sewer line once you know it needs repair.
If it appears your drainage system has started slowing down then call Streamline Plumbing.
We can provide a same day FREE estimate and put your mind at ease.
Things that interfere with a sewer system –

Random objects end up in the lines
Extreme temperatures can affect the pipes
General deterioration like lines buckling or breaking
Ground has shifted over the years
poor installation from original plumbers / city workers
Don't let just any plumbing company dig up your yard.
Streamline Plumbing offers a video sewer inspection.
This allows our plumbing techs to get a clear look at your sewer lines and formulate a plan.
We always want to minimize any demolition and other disruption to the household.
This strategic process allows us to decide if an auger or high-pressure flush can solve the problem, which helps keep costs down.
Contact Anaheim for sewage questions.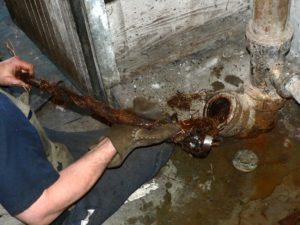 Sewer Line Replacement in Anaheim
Sometimes sewer lines can be to damaged to repair.
Our sewer line replacement techs will run a radio transmitter on the camera to give us enhanced visibility.
Simply put, it helps us to find a precise location of the sewer lines and the depth below the ground surface.
Putting in a sewer replacement line will require a small backhoe to dig up the immediate area surrounding the lines.
Read some valuable tips to help avoid having a sewer repair issue down the road.
A sewer line replacement is not a job for a new plumber.
Trenchless Sewer Repair
With modern tech being what it is, sewer problems won't always require excavation on a grand scale.
Trenchless sewer repair is a modern landscape-friendly choice all over Orange County.
Most homeowners prefer this choice when they have sewer lines beneath landscaping.
Trenchless sewer repair has 2 main scenarios –
a pipe bursting caused the existing line to be blown apart and a new pipe is then pulled through it.
a pipe relining, uses a fiberglass line that is placed inside the faulty pipe and then seals any damages.

We can help with –
Houses
Condominiums
Restaurants
Commercial Office Buildings / Parks